AirCheck G2 Wireless Tester
รายละเอียดเพิ่มเติม ดาวน์โหลด
There are many variables that lead to Wi-Fi complaints, ranging from network-based problems and configuration issues to environmental or client device misconfigurations. Collecting all the key pieces of information the very first time is key to every front-line IT responder to resolve any complaint. AirCheck G2 simplifies wireless troubleshooting by providing:
A rugged, purpose-built wireless tester supporting the latest Wi-Fi technologies (802.11a/b/g/n/ac) that's easy to use and easy to carry
A one-button AutoTest, which quickly provides a pass/fail indication of the wireless environment and identifies common problems — for any level of Wi-Fi expertise
Quick connection to wireless networks to verify network availability, connectivity, performance, and access to networked resources
A centralized test results management platform, Link-Live, that facilitates greater job visibility, results archiving, project control, and fleet management for larger distributed environments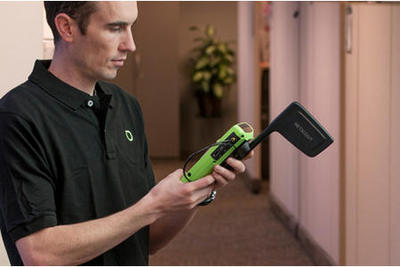 AirCheck G2 integrates Wi-Fi technology plus interference detection, channel scanning, connectivity tests, and iPerf performance testing. The one-button AutoTest an instant access to detailed information provides fast troubleshooting for the most common Wi-Fi pain points, including:
Coverage problems
Overloaded networks or channels
Slow onnections
Connectivity problems
Failed access points
Rogue access points
Client problems
Unauthorized clients
Primary Features
The AirCheck G2 provides instant access to network, channel, access point, client, and interference data immediately off the main screen along with push-button tests for wireless as well as wired.